High Density Mobile Storage System
Maximize Your Storage with Minimum Floor Space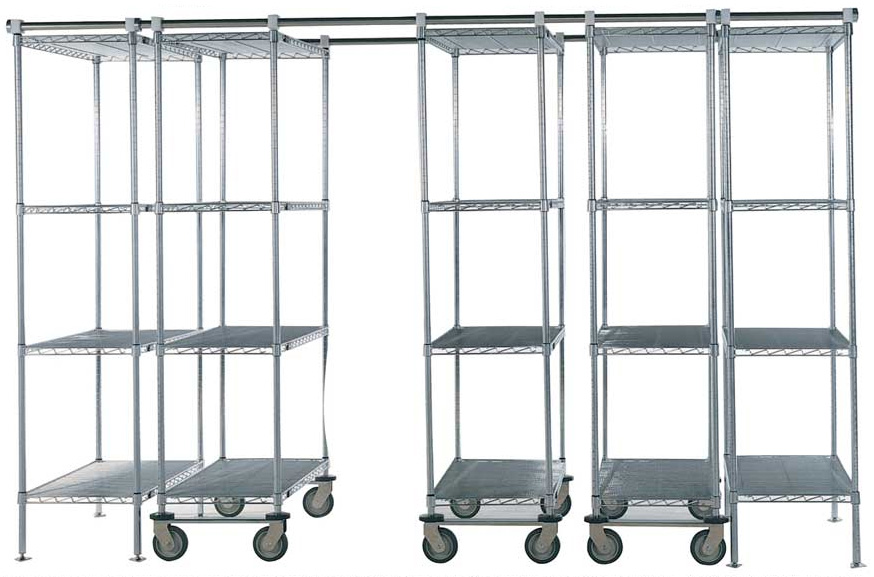 Double your storage space capacity instantly with this economical mobile shelving system. Provides instant access to inventory and allows maximum air and light circulation. Space-Trac is designed to eliminate unnecessary aisles, free-up floor space and increase the number of shelving units that can be used in a designated area. This is done by combining stationary and mobile units, to create or eliminate aisles as needed. The stainless steel overhead track assures smooth shifting of units, elimates dirt and debris build-up that usually occurs with floor mounted systems and compensates for uneven floors. Both stationary and mobile units are available with a variety of shelf sizes and finishes. Mobile units have 5" polyurethane wheel casters. Simple installation makes this system practical and easy to use.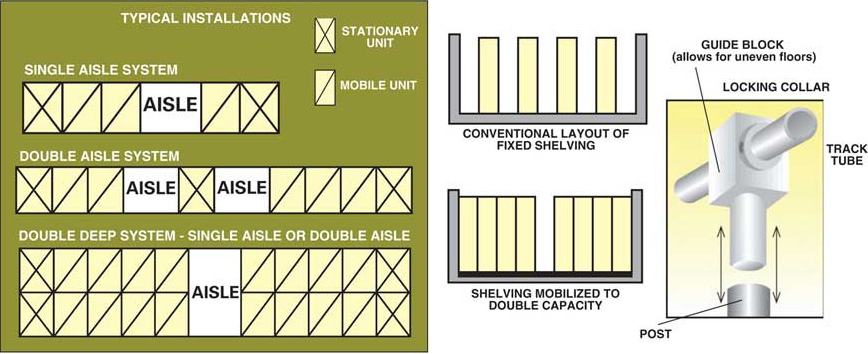 Call Us to Order!
Simple to Install, Simple to Use
When choosing component parts, the following factors must be determined.
The length of Space-Trac necessary.

Combine the widths of necessary stationary and mobile units. Add minimum 30" for a single aisle and 2" for every mobile unit used to compensate for bumpers.

The shelf length you want to work with - all shelves must be the same length. It is desirable that all shelves be the same width, but it is not required. For simplicity, if choosing different sizes, make stationary units one width and mobile units another.
Height of Unit - when choosing post height, all units must be same height.
Choose finish of shelving and posts, depending on your needs (see chart on page 4).
When ordering component parts remember:

Each Stationary Unit requires 1 stationary unit kit, 4 posts and shelves (you determine number). WIRE SHELVES - order from page 5. SOLID SHELVES - order from page 10.
Each Mobile Unit requires 1 mobile unit kit and shelves (you determine number).
Space-Trac Guide Bar (custom sized to a max. length of 12 ft.) for longer systems, order one Joining Insert to connect each additional guide bar ordered.
You must order a guide bar for the front and back length of the system.